TPM is a big thing that keeps you from using it Windows 11. But what is a TPM and how do I check which version of TPM is used?
Since the launch of Windows 11, many have wondered if they can upgrade to the latest version of Windows for free. Fortunately, Microsoft allows users to do this, but when they check their computer compatibility, they receive this message: This computer cannot run Windows 11.
Read also: How to download the latest Windows 11 for free
As it turns out, your computer needs to have TPM installed and enabled to use Windows 11. So what is TPM? And how can you fix it to get the latest Microsoft operating system?
What is TPM?
TPM, or Trusted Platform Module, is a hardware-based security solution. This is a chip installed directly on the motherboard that protects the system from malware and other attacks. It is also an integral part of Windows security tools, such as Bitlocker encryption.
Microsoft recommends that its users use the TPM 2.0 chip when upgrading their Windows 11 operating system, although TPM 1.2 will meet the minimum criteria. Microsoft needed this technology to improve customer security, although many experts believe this specification is redundant.
So if you want to upgrade to Windows 11, you need to know if your computer has a TPM and what version of TPM you're using.
How to check if TPM is installed
The easiest way to check if you have a TPM chip is to run the command get-tpm melalui Windows PowerShell.
To do this, type PowerShell in the Start menu search bar. Right click on the result Windows PowerShell and select Running as administrator. Click Yes in the confirmation window. In Windows PowerShell, type get-tpmthen press enter. You will see the following results:
If TpmPresent returns False, it means that the motherboard does not have a TPM chip. But if you get the following results:
TpmPresent: True
TpmReady: False
You can enable the TPM chip in the BIOS / UEFI and verify that you are eligible for a Windows 11 upgrade. That is, assuming the remaining Windows 11 upgrade requirements are met.
How to check the TPM version
Microsoft initially announced that users will need TPM 2.0 to run Windows 11. However, they later revised their documentation to set the minimum requirement for TPM 1.2, with the recommended version being TPM 2.0.
Now, if you're trying to upgrade to Windows 11 with a TPM 1.2 chip, but not a TPM 2.0, you'll get a message that says "upgrade is not recommended".
Now you know if your computer has a TPM chip installed or not. Then check which version of TPM you are using.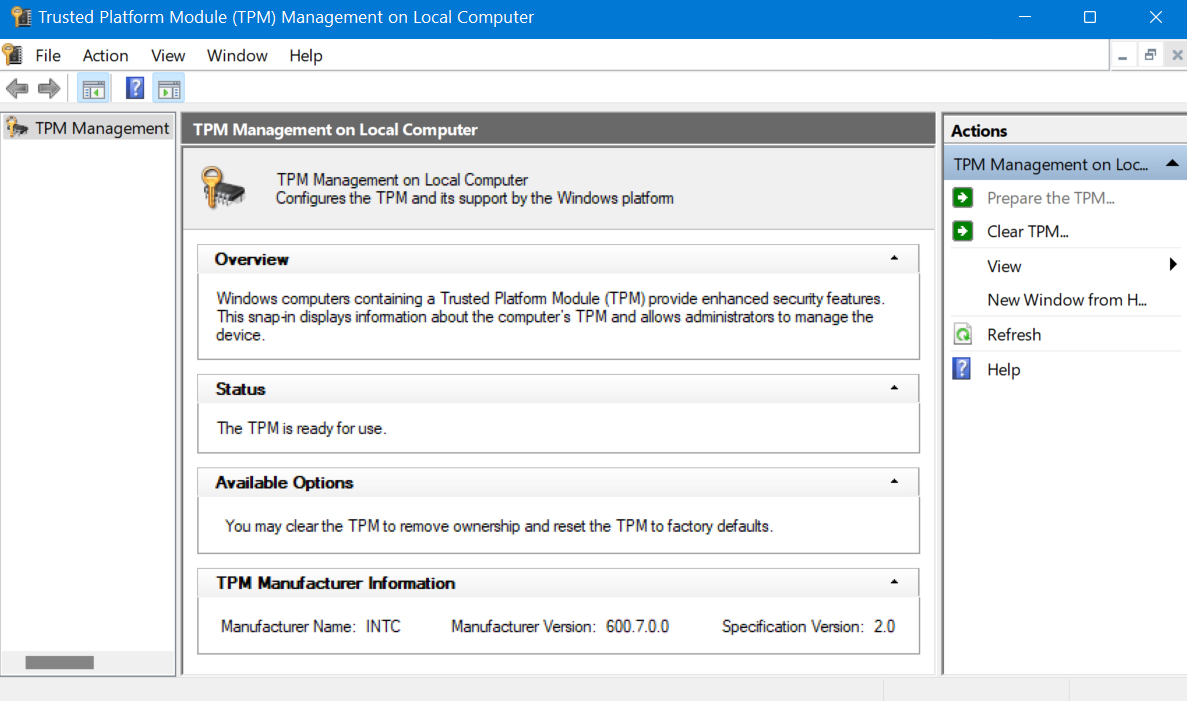 First press the button Windows + Rthen type tpm.msc. The Trusted Platform Module (TPM) Management window opens. Under the window Manufacturer Information TPMsearch for Version specification. You'll see the version of TPM running on your computer down there.
How to upgrade TPM 1.2 to TPM 2.0
If it turns out you have a TPM 1.2 chip, chances are you can upgrade to TPM 2.0. It all depends on the hardware, manufacturer and firmware, which is why we will not provide exact details on how to upgrade TPM 1.2 to TPM 2.0.
If you search the internet for a specific type of hardware using the keyword "how to upgrade tpm 1.2 to tpm 2.0", you may find some useful search results to guide you through the process.
Conclusion
If your computer has a built-in TPM 1.2 or higher chip, you only need to enable it to use Windows 11. Activation varies between motherboard brands and models. You should check your computer's documentation for precise instructions.
TPM availability varies between motherboards, but most new devices have it installed. Of course, Microsoft has requested a TPM 2.0 chip for all new hardware since 2016. However, if you have an older computer and don't have a TPM chip, then the only solution is to upgrade your device.
---
So many articles What is TPM and how is it checked. Looking forward to more interesting articles and don't forget to share this article with your friends. Thank you…
Hi, I am Azara! At Azara Tech we are passionate about tech and love sharing our knowledge and research with you.
At Azara Tech, we strive to be the ultimate resource for learning everything about technology!