Confused looking for your Steam ID? Follow the steps below to learn how to view your own Steam ID.
Read also: How to share Steam games to another account
Each Steam user has a Steam ID. This is a unique 17-digit number used to identify your account. Third-party tools sometimes require you to sign in to your account. Your administrator will explain everything you need to know about your Steam ID, including how to view your own Steam ID.
What is a Steam ID?
Each Steam account has a unique Steam ID. You will never have the same Steam ID as anyone else. This is the 17-digit number associated with the user's account and cannot be changed. The Steam ID is not the Steam username, which you typically use to sign in to Steam, or the display name, which you display as another player.
Read also: 8 ways to overcome Steam can't open
Your Steam ID can appear in your profile URL With your Steam ID added, your profile URL will look like this: https://steamcommunity.com/id/ If you set a custom URL in your account settings Steam, this will replace the Steam ID in the profile URL.
Why do we need a Steam ID?
You may not need to know your Steam ID. This is not personal information either, so don't worry if someone says they know your Steam ID. Because you can easily find out their ID using tools like Steam ID Finder.
But sometimes your friends or relatives may need your Steam ID to be friends or to connect to Steam. So that later you can play Steam games like Dota 2 together.
Or some third-party services or developers / publishers (such as Ubisoft and EA) may ask for your Steam ID. They may need this to link something to your account or to search your database for support.
How to view your Steam ID
It's very easy to find out your Steam ID. Here's how to view your own Steam ID: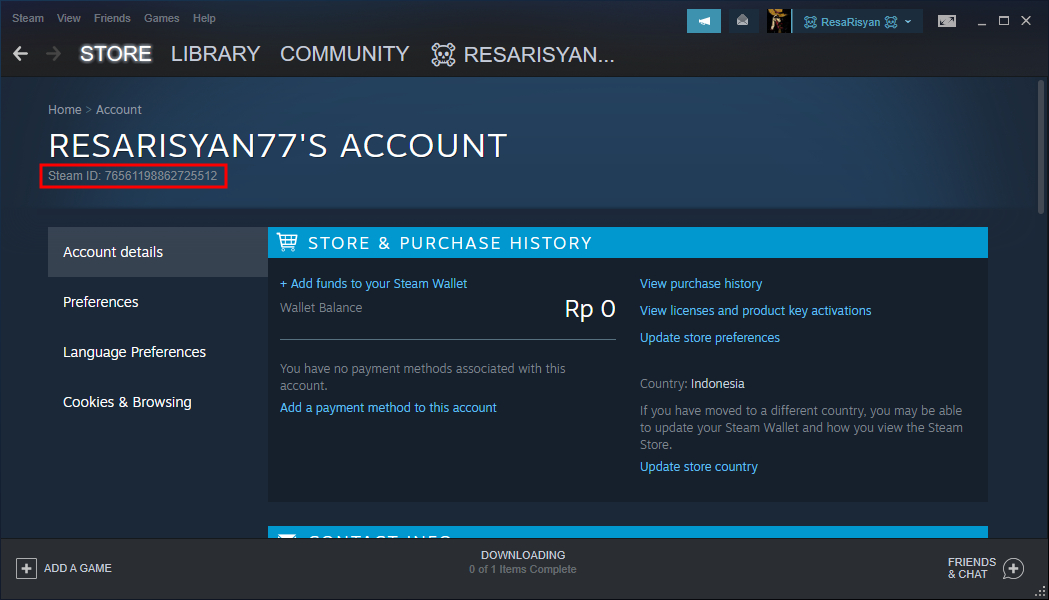 Open the Steam client app.
Click profile photo you are on the top right.
Click Account details.
Display your Steam ID at the top of the page, under the title.
Read also: How to overcome slow-download Steam updates
Conclusion
Here's how to put one together for use with your Steam ID. You may not know that a Steam account has a unique ID. If you've ever been asked for it, now you know how to get it.
For information only, can you see the full Steam purchase history in your account? It's a good idea to take a look at your account settings to see if there's anything you want to adjust.
---
So many articles How to view your own Steam ID. Looking forward to more interesting articles and don't forget to share this article with your friends. Thanks…
Hi, I am Azara! At Azara Tech we are passionate about tech and love sharing our knowledge and research with you.
At Azara Tech, we strive to be the ultimate resource for learning everything about technology!