Are you looking for a way to use WhatsApp Web without a mobile connection? Fortunately, you can do that, now you can use WhatsApp even when your mobile phone is offline.
Previously, only the WhatsApp mobile app could display your chats on the user interface of the associated device. This means that WhatsApp will not work on connected devices when your phone battery runs out or the internet connection is bad.
Read also: 5 Reasons for Slow WiFi Signals on Laptops or Cell Phones
But that is no longer the case. You can now use WhatsApp Web safely even when your phone is offline. Let's explore how to use WhatsApp Web without a mobile connection.
How to use WhatsApp Web without a mobile connection?
It is very easy to use WhatsApp on the web or desktop without the need for a connection from your mobile phone. There are two ways to do this:
Simply update WhatsApp on your mobile device by searching for WhatsApp in the App Store or Google Play Store. If prompted, click Update. Then sign back in to your linked devices.
If the above options do not work for you, you should join the multi-device beta. At the time of writing, you should find this feature in a file Associated devices On the WhatsApp mobile application. Join the beta, then sign back in to your linked devices.
Moreover, even with your mobile phone turned off or disconnected from the Internet, you can now use WhatsApp Web or the desktop application on multiple devices simultaneously. While your experience may be different, WhatsApp does mention some limitations on updates. For example:
You cannot create or view broadcast lists on linked devices.
Preview link not working on WhatsApp web.
You may have trouble calling or texting people who are using an older version of WhatsApp.
How to delete the connection of linked devices on WhatsApp
Having multiple devices connected on WhatsApp can be very useful. However, you may want to remotely disconnect the device for security reasons.
To do this on iOS, go to Settings At the bottom right of the WhatsApp mobile app and tap Associated devices. On Android, tap Three vertical points at the top left and select Associated devices. Select the device you want to disconnect and click Log out.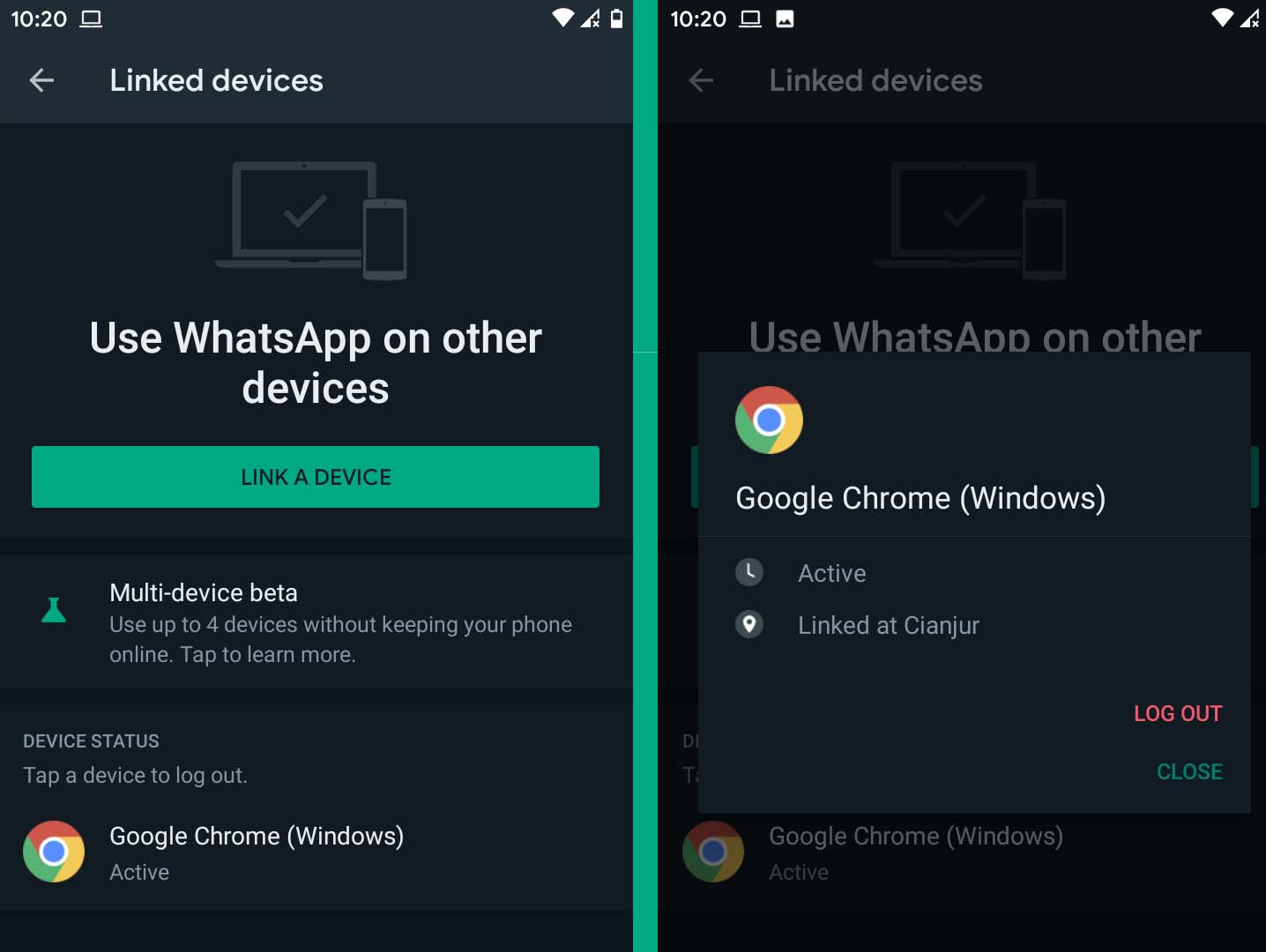 Is it a threat to end-to-end encryption?
Since WhatsApp initially restricted end-to-end encryption on your phone only, does that mean using WhatsApp Web or Desktop when your phone is offline is an infringement of privacy? According to a tweet from Will Cathcart when WhatsApp first rolled out this feature in beta on July 14, 2021.
All of this is done with the safety you expect from him @The WhatsApp. We've developed new technologies that maintain end-to-end encryption while keeping your data — message history, contact names, starred messages, and more — seamlessly synced across devices. More here: https://t.co/AnFu4Qh6Hd

– Will Cathcart (@wcathcart) July 14, 2021
WhatsApp now separates encryption on a per-device basis. This means that each associated device now has its own unique key and handles end-to-end encryption independently.
However, WhatsApp uses the security key combination algorithm to write your chats and data from all connected devices to the local database of your phone.
conclusion
So this is how to use WhatsApp on the web without a mobile connection. With this additional WhatsApp feature, WhatsApp users no longer need to rely on their mobile phone to chat with others via WhatsApp web or desktop application.
Although you will still be logged into the desktop WhatsApp app, be careful when using the web version, because clearing your browser cache will allow you to log out even if you are still connected to your phone.
---
Lots of articles How to use WhatsApp Web without a mobile connection. Look forward to other interesting articles and don't forget to share this article with your friends. Thank you…
Hi, I am Azara! At Azara Tech we are passionate about tech and love sharing our knowledge and research with you.
At Azara Tech, we strive to be the ultimate resource for learning everything about technology!